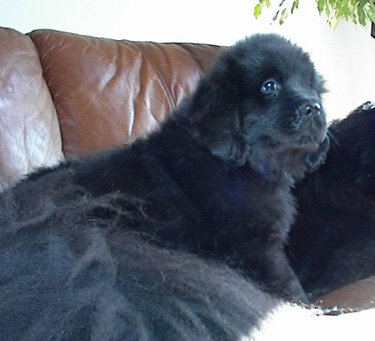 Tarbeary Tangria of Bearbrook
A.K.C. Reg. # WS22286601
D.O.B.: February 20, 2007
Sex: Female Color: Black/Landseer (white & black) recessive
Tango's OFA Certifications to date:
OFA # 1354939 - Hips "GOOD" & Elbows "NORMAL"
OFA Heart results "NORMAL" Cardiologist
OFA Patella results "NORMAL"
Cystinura "Non Affected" by DDC DNA Testing
SIRE: AM. Ch. Follow That Dream Anmalamual del Basaburua (Spanish import)
OFA #'s: NF9608F (Hips), EL3349 (Elbows), CA2704P (Heart), PA567 (Patellas), CY412 (Cystinuria - Clear)
DAM: Moonshadow's Magically Delicious CGC TD1 OFA CHIC
OFA #'s: NF8581G (Hips), EL2488 (Elbows), CA1708C (Heart), PA396 (Patellas), CY196 (Cystinuria - Non Affected), TH296 (Thyroid)
"Tango" is a real cutiepie, and her name suits her well! When she wags her tail, which she seems to do constantly, her whole rearend shakes from side to side. She is a most delightful and happy girl, and a real charmer.
She comes from very nice bloodlines, with a good part of it going back to many of our wonderful Bearbrook dogs of the past.
The top right picture is Miss Tango at 8 weeks of age.
SCROLL DOWN TO SEE PICTURES OF TANGO'S PRESENT AND PAST LITTERS & PUPPIES! UPDATED MARCH 2, 2013.