Introducing Abby: A Therapet® Therapy Newf
(Written by Tammie)

Registered Name: Bearbrook's Abby Source of Joy
Call Name: Abby
DOB: July 20, 1997
Place of Birth: Quebec Canada
Breeder: Bearbrook Newfoundlands
Occupation: Therapet® Animal Assisted Therapy Dog
Email: therapet@juno.com
Website: www.therapet.com

At nine weeks, 10 pounds Abby arrived at DFW Airport in September 1997. She began training to be a therapy dog immediately. She completed Puppy Class and moved onto Beginners Obedience Class where she graduated with the Canine Good Citizenship Award. Abby passed her therapy dog training and testing at one year of age, weighing 100 pounds. Abby attended an official "Puppy Day" where prospective therapy dogs are introduced to the hospital and patients. In October, she attended her first visitation to Texas Department of Corrections-Skyview Psychiatric Unit. During her first year she attended dog classes, social gatherings, as well as, many trips to her family's Preschool. Abby had to learn patience with all types of people, dogs, other animals, and costumes. The people and animals were not a problem; however, the costumes are not one of her favorite things.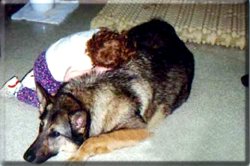 I learned about Therapet® Animal Assisted Therapy Program in September 1995 from an article published in our local paper. I became involved with my German Shepherd, Hannah, in January 1996. Hannah and I were actively involved until her untimely death in October 1997. Abby came to us just two weeks before Hannah passed away.
Pictured at right is Hannah comforting a child at Day Spring Pre-School.
Abby was not the first Newfoundland in the Therapet® organization. Espirit, owned, trained, and loved by Katherine Maas-Conner, was one of the first therapy dogs in the program. Following Espirit, in perfect Newfie form was Summer, owned, trained, and loved by John and Dana Hubacek. Many hours of research, talking with owners and breeders, and a Summer sleepover convinced me that I to wanted to be owned by a Newfie.
Abby soon became a favorite with patients, patient's families, and staff. Abby learned the basics of drafting in order to be able to pull a wagon full of fruit for the prison visits. Abby was always missed when she had to take medical leave in 2000 and 2002.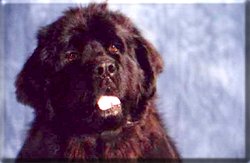 Like all Newfs, Abby loves to play in water, will find the smallest trickle to make a mud puddle, and is intent on "saving" those in water whether they need it or not! She loves eating wild blackberries off the vine in the Spring. Abby loves to help her family by carrying the mail, newspaper, groceries, ice coolers, and her leash, taught to her by another outstanding Therapet® dog, KC, a Golden Retriever. She thrives on always being with her family, including her canine companion, Lacy (mixed breed). As a Texas Newf, she lives the life of fans and air conditioners year round.
Therapet® is a national nonprofit organization whose mission is to facilitate the use of animals in the healing and rehabilitation of acute and chronically ill individuals. Therapet® works to accomplish this mission through the education and training of health care professionals, evaluation and training of animal and human volunteers, as well as, the establishment of AAT programs throughout the nation. Goals to achieve this mission include providing standards of practice, which includes education, training, and certification of health care professionals who provide AAT. Standards of animal evaluation, which adequately test the animal's reaction to stress, are taught to individuals to ensure the safety of patients in AAT programs. Continued education, training, and support for institutions wishing to establish AAT programs, as well as, research in this field of medical practice continues and is supported by Therapet®.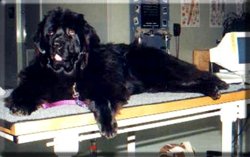 Areas of treatment using AAT successfully include, but not limited to, Occupational Therapy, Physical Therapy, Speech Therapy, and in Psychiatric Treatment and Therapies. Different types of programs include one-on-one therapy goal-oriented sessions, visitation programs, and community education and awareness. Therapet® provides all types of programs in the East Texas area. Therapy sessions at Healthsouth Rehabilitation Hospital are held five days per week. Visitation programs are held at Healthsouth Rehabilitation Hospital, Trinity Mother Frances Hospital, Texas Department of Corrections Skyview Psychiatric Unit, Hospice of East Texas, and Rusk State Hospital. New programs are continually being investigated such as working with abused children through the District Attorney's Office.
Community education and awareness programs include, but not limited to, seminars, speaking engagements to local organizations, booths in local events and fairs, demonstrations at local schools, churches, and other community gatherings. Local television coverage, newspaper articles, and Breed, Hospital, and Practice Journals have helped spread the word about Therapet®. National television programs Sightings and Beyond Chance has highlighted Therapet® and it's work.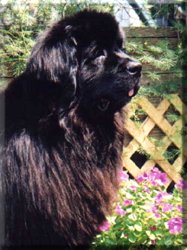 Volunteer teams are trained and educated in a four-step process of certification. The process includes obedience class, veterinary screening, temperament testing, and a three-month training program in the hospital. Volunteer teams require continued education each quarter. For more information regarding Therapet® Animal Assisted Therapy Foundation go to
www.therapet.com
or email
therapet@juno.com
.
As an AAT volunteer team, Abby and I participate in most of the programs Therapet® offers. Every time we work we are reminded just how blessed we are to be a part of the Therapet® family. Whether it is a half smile from a stroke patient, a tear from a car accident victim, a story of a dog owned long ago when current memories are not working, reaching out of an arm, moving of fingers just to try to touch Abby's beautiful coat, a tear from a prisoner that hasn't touched an animal in untold years, or a child stressed by the coming and goings of Day Care cuddled up, hugging Abby, and watching the stress leave the little one's body, most of the time the reactions and impact we have on others is very subtle and hard to see from an untrained eye; yet, every now and then we experience the process in very dramatic ways.
One of the most dramatic sessions at Healthsouth was when Hannah and I were with a little lady that had suffered a stroke and could not talk. The therapist told me she responded by blinking once for yes, twice for no. Just a few feet from us the therapist was called to the phone. Watching us all the time, the therapist saw me as I began to talk with the lady but what the therapist didn't notice was the lady began talking to me. We found out that as a child she had a German Shepherd and Hannah brought back loving memories and also the miraculous ability to speak. Soon the therapist returned and asked what was happening; I explained what had just occurred. Ah, what wonders the memory of a beloved animal can produce.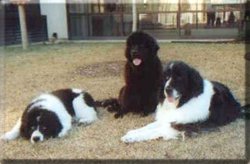 In September 2001, Abby and I were introduced to Hospice of East Texas as we began sitting with a dear friend in her final weeks of life. During her times of rest, Abby and I would walk the halls and visit with other patient's families and staff. Once Hospice of East Texas affiliated with Therapet®, Abby and I made a commitment to the memory of our friend to always visit Hospice when we are working in Tyler. Just a few weeks ago Abby and I experienced the dramatic impact the Therapet® animals have on others.
The following was my report to our group:
"We worked the first hallway, then moved on to the second hall. We stopped in the first corridor after visiting with a family. Abby sat (she usually lies) the patient's door open. Family came out; you could tell death had just passed their way. Abby took notice of their pain and stress. In her own way she invited each one over to her. Never once attempting to lie down. In grief and tears, each one walked to Abby with a slight smile, talked, and petted her. That was the first wave of family from the room. The second wave of family to exit were in more distress and grief; again, Abby took notice still sitting, they to through their tears made their way to her. One lady got down to Abby, petting, and talking quietly --I reached over touched her shoulder and expressed my condolences for their loss. I told her that Abby gave great hugs and the lady hugged her, the tears flowed freely. The third and final wave of family exited the room, again in their grief, smiled, and made their way to Abby, Finally with the entire family gathered and greeted, Abby laid down and they started asking questions about her."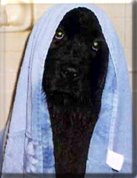 What joy and fulfillment to be a part of such a process, watching my dog rise to the occasion, share in their grief and do it with unconditional love and caring, and know that she made a difference in their lives that day. (written by Tammie)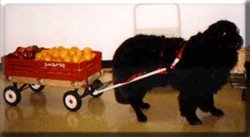 Apples and oranges we bring to TDCJ-Skyview Unit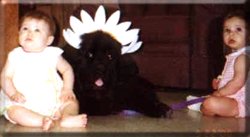 Abby and nursery visitors at Day Spring Pre-School