The Bearbrook Kennel Story
Thank you for visiting our website. I hope your visit will be a pleasurable one. May you enjoy a trip through the past, to honor all the wonderful dogs that came before, a trip through the present so that you may meet our dogs, and the future, where the hope of tomorrow lies.
A little information about myself, my kennel and my dogs. I have been breeding black and Landseer (white & black) Newfoundlands since the early seventies, under the kennel name "Bearbrook". Always a small scale kennel, I have taken pride in my dogs and their accomplishments throughout the years. To date many of my Newfoundlands have gone on to win many awards. I have produced countless champions, working & water rescue dog titleists, obedience titleists, group winners and placers and Best-in-Show Newfoundlands. Due to the number of champions produced early on, my kennel name became permanently registered with the Canadian Kennel Club many years ago. I am a Life Member of the Canadian Kennel Club, and have been a member of the Newfoundland Club of America for many years, as well.
I have also had the honor of judging both at the American and Canadian Newfoundland Specialty Shows, as well as at the SAT Newfoundland Specialty Show in Italy.
I have and will always strive to produce happy, healthy Newfoundlands, whether as lifelong companions, working & water rescue dogs, and/or show & breeding stock. All breeding stock are health screened, and all puppies are sold with a one-year written guarantee.
In the last few years my personal life changed dramatically and I met and fell in love with a wonderful man who was residing in the USA. In 1999 we were married and my new life began with him here in New Hampshire. We had our first litter together in December 2000. And, so, the Bearbrook tradition will carry on once again, here in the beautiful White Mountains of New Hampshire.
Again, thank you for visiting our website. Should you wish further information on our dogs, please do not hesitate to contact us. We'd be happy to hear from you!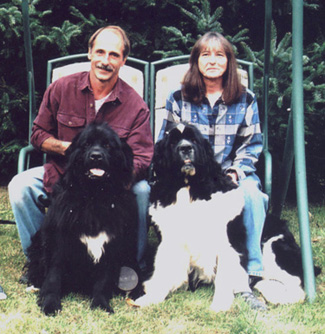 Hilda & John with Misty & Mandy in Fall '06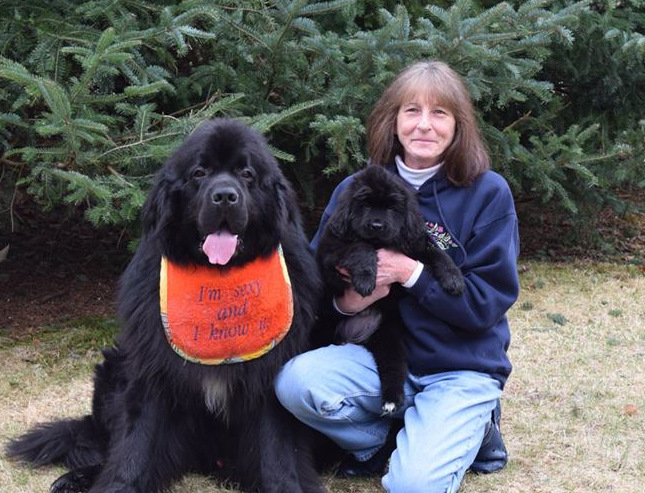 Hilda with Salem & baby Sariah in Summer 2017