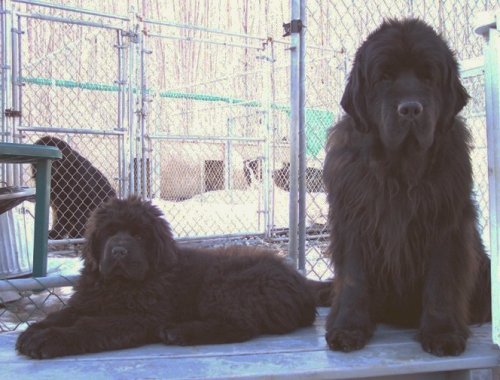 BEARBROOK'S BREWSTER
Brewster pictured at 3 months, with his mom, Emma. To see more pictures of Brewster all grown up, keep scrolling down.
Sire: Newf Mermaid Bearbrook (Belgium)
Dam: Longship Rendezvous Cinali OVC certified
AKC REG.# WS11369207
D.O.B.: Dec.17,2004
BREWSTER'S OFA CLEARANCES TO DATE
Hips - NF9399G25M-PI ("Good" Rating)
Elbows - Preliminary rating "Normal"
1199695 ("Grade 1" Rating)
Heart - CA2500/25M/P-PI ("Normal" Rating)
Patellas - PA672/25M/P-PI ("Normal" Rating)
Thyroid - TH488/29M-PI ("Normal" Rating)
Cystinuria Clear By Parentage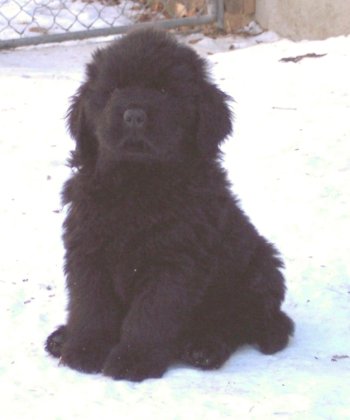 Brewster is a son of our Emma and Euro. We had not planned on keeping a puppy from this litter, but we could not help falling in love with this wonderful fellow!
He is a true delight and amuses both us, and all the doggies here with his ongoing antics!
Brewster has produced some lovely puppies to date, including his lovely daughter Clementine, whom you can see in the "Girls" section.
Brewster is standing at stud to approved bitches, when accommodations are available.
Brewster photographed at seven weeks of age.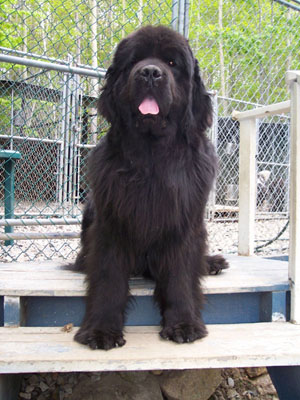 OUR HANDSOME BOY "BREWSTER" - PICTURED AT 3 YEARS OF AGE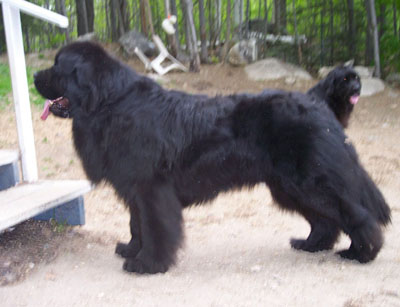 ANOTHER SHOT OF BREWSTER, PICTURED IN HIS "SUMMER ATTIRE" - MORE PICTURES WILL BE ADDED ONCE HE COMES BACK INTO FULL COAT!
You may see Brewster's pedigree here.